Custom Solutions
90meter follows strict guidelines to building the best information assurance software products available. We believe that you must follow a process that maximizes results. It has been our experience that this is done in a five part stage Discovery, Design, Build, Implement, Continuous Improvement.
Discovery - In this stage we gather additional functional information unique to the client that defines the project requirements. 90meter will conduct a workshops or integration meeting with Technical Director or Contract officers to finalize these unique requirements, solution objectives and related strategies. We want to ensure we are developing the specific required product exactly how it is needed in the market.
Design - Using a Functional Requirements Document 90meter will perform an analysis of the requirements to develop the software product and Design Document. The document will include a design description of the interfaces, and architecture.
Build - The objective of the Build stage is to construct agreed upon software product according to the Solution Design Document and the SOW. The Build stage also includes software testing to validate performance and functional behavior. Upon completion of the Build Phase, 90meter will participate in a checkpoint meeting to review progress.
Implement - During the Implementation stage, the project team will execute User Acceptance Testing (UAT) under the technical direction of the client. 90meter often conducts pre-deployment training for our clients and transition the software build team to the 90meter support team. Upon completion of the Implement Phase 90meter holds a checkpoint meeting to review progress.
Continuous Improvement - At 90meter we are committed to your success. Our teams constantly evaluate our solution in the current and future environments it will face. We listen to our clients needs and tweak our products to meet those specific needs.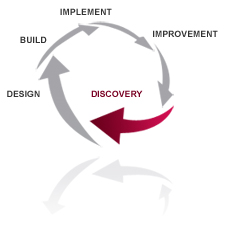 90Meter. Committed to meeting your needs.

© 90meter, Inc. All rights reserved.